Join us for a special event! On October 20th, 2017, the Chogye International Zen Center of New York will host a Dharma Talk  with Visiting Teacher Zen Master Dae Kwan.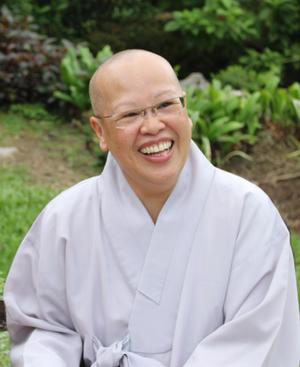 Zen Master Dae Kwan (Hyang Um) a Zen nun, studied sutras at the Kwok Kwong Buddhist College in Hong Kong in the 1970's and ordained at Ajahn Chaa's International Forest Monastery in Thailand in 1981. She practiced in Chiangmai for a decade including two years of intensive solo retreat in Tu Boo Cave. As a Theravada nun she went to Korea in 1992 for the first time and met Zen Master Seung Sahn during a three-month winter kyol che. Thereafter she became his student and returned to Hong Kong to help establish the Hong Kong Zen Center (now Su Bong Zen Monastery). In 1995, she received inka from Zen Master Seung Sahn and in April 2001, she received Dharma transmission from him and was named Zen Master Dae Kwan. Zen Master Dae Kwan is the abbot and guiding teacher of Hong Kong Su Bong Zen Monastery. She has translated several of Zen Master Seung Sahn's books into Chinese including "Dropping Ashes on the Buddha", "Only Don't Know" and "The Whole World is a Single Flower"
Dharma Talk  with Visiting Teacher Zen Master Dae Kwan
Friday, October 20th, 2017
7:45PM (Direcly following evening practice from 6:30-7:30PM)
at the Chogye International Zen Center of New York
400 East 14th Street #2D/2E
New York, N.Y. 10009
212-353-0461
_______________________________
What is Zen?
Zen employs several simple techniques of formal practice and meditation that help direct the student towards a central question: "What am I?" Although this question seems shapeless, Zen has developed, over many centuries, a  practical and clearly defined means of approaching it. Meditation, communal activity, and student-teacher dialogue are common to all Zen traditions. If there is an element of faith in Zen, it is faith that steadfast concentration on the question of self-nature will bring clarity and energy to everyday life as well as a faith that, ultimately, Zen practice will not focus on an isolated "I" but on the whole real world.
The Chogye International Zen Center of New York was founded in 1975 by Zen Master Seung Sahn who is the first Korean Zen Master to live and teach in the West. Addressed by his students as Dae Soen Sa Nim, he arrived in the United States in 1972 and established Zen Centers in the U.S. as well as Europe and Korea. These centers are linked together through the Kwan Um School of Zen.
The Zen Center offers daily practice which includes chanting, bowing, and sitting meditation, an extended sitting practice on Wednesday nights, monthly talks on Zen, and an Introduction to Zen class. The Center also offers frequent retreats, workshops and one-day sitting intensives.
________________________________________________
What is Zen? from Sana Lime.